Meet Cally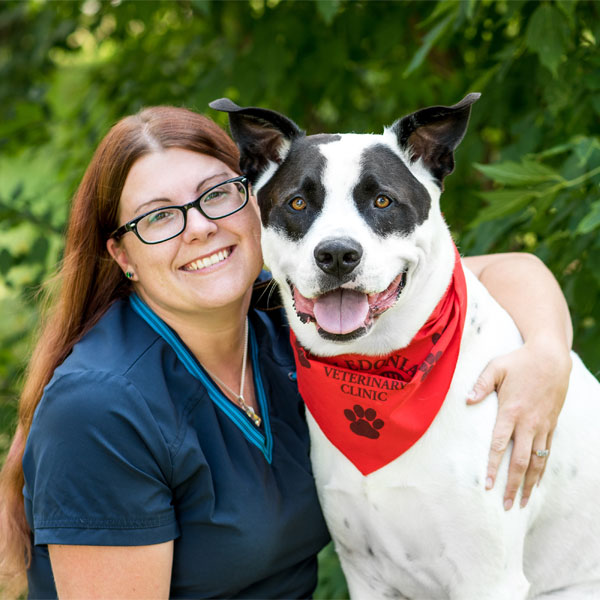 Cally Johnson, RVT
Cally is our Lead Registered Veterinary Technician. She graduated from the University of Guelph Ridgetown Campus in 2011 and has worked in a variety of settings, including small animal, mixed animal, equine, and emergency practice. She has even mentored the next generation of RVTs while teaching in the Veterinary Technology Program at Ridgetown.

Cally has completed and is certified in Basic and Advanced Life Support for Veterinary Professionals through the American College of Veterinary Emergency and Critical Care. She is a member of the Ontario Association of Veterinary Technicians (OAVT) as well as the National Association of Veterinary Technicians in America (NAVTA). Cally is a Certified Equine Massage Therapist, and takes pride in helping those who can't 'speak' for themselves. She is also a member of the OAVT Rabies Response Program, collecting and submitting samples for testing.

Outside of work, Cally is passionate about advancing the RVT profession. She is currently the President of the Registered Veterinary Technologists and Technicians of Canada and is involved in a number of their committees and projects. She has also sat on the OAVT Board of Directors, including her time as Vice-President and has presented continuing education opportunities to fellow RVTs through journal articles and conference presentations. Cally was the 2020 recipient of the OAVT Award of Merit for her contributions to the RVT profession on a regional, provincial and national level.

On Cally's days off, she enjoys spending time with her husband and son, whether it be quadding, hiking, anything horses, or spending time with family and friends on their farm of furry and feathered animals. Here she is pictured with her mastiff x Ranger.