Meet Stella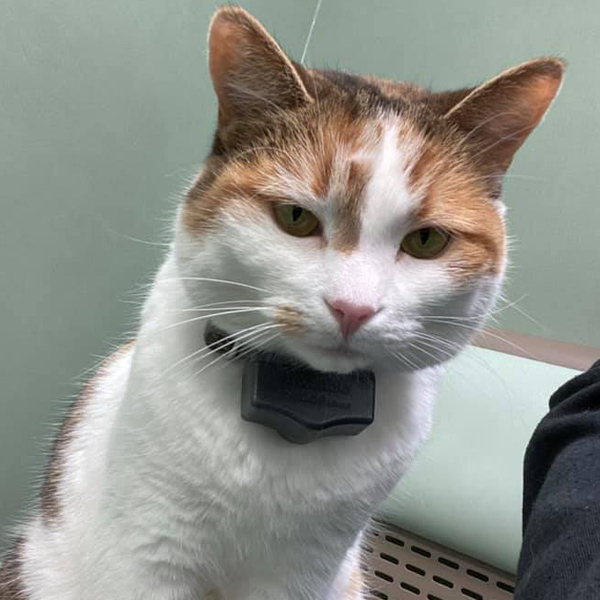 Stella, Clinic Pet
On September 30th, 2015, one of our dear clients brought in a tiny little furball she found in her barn. This kitten was a new stray she was hoping we could find a home for, since she already had enough of her own barn cats. It was late in the afternoon and the usual protocol was to contact the Welland SPCA for any stray animals found in Caledonia. The staff from the SPCA could not pick up the same day and promised they would come tomorrow. We examined the kitten, treated her incredible load of fleas, fed her and immediately fell in love with her cute little character and soft bunny –textured fur. The next morning, we called to cancel the pickup from the SPCA and the rest is history!
We could not decide on a name at first for our new addition, so the staff had a brilliant idea for a fundraiser: pay a dollar to suggest a name, the name that gets the most votes from our staff gets a prize! The prize of a Tim Horton's gift card was given to the client, who suggested the name `Stella'. The money we raised went to one of our favourite charities, the Farley Foundation.
Stella turned out to be a wonderful and mischievous kitten.
We had so much fun with her and discovered that she was very food motivated. There was good AND bad to that! This was good, because we were able to train her to do a few tricks. When you come in the next time to the clinic, please ask the staff to demonstrate what Stella can do! This was also trouble, because she would bite holes into our bags of dog and cat foods that were on our counters waiting to be sold!
We were able to solve this problem by installing Invisible Fence indoors. Stella wears a collar that warns her if she tries to go into areas of the clinic that are off-bounds to her and also keeps her safely indoors when our front doors open and close many times during the day. Stella also earns her keep by being our demo cat: for how to pill a cat, how to trim nails and how to brush cat teeth! Stella is also our model of how well cats do when they are declawed.